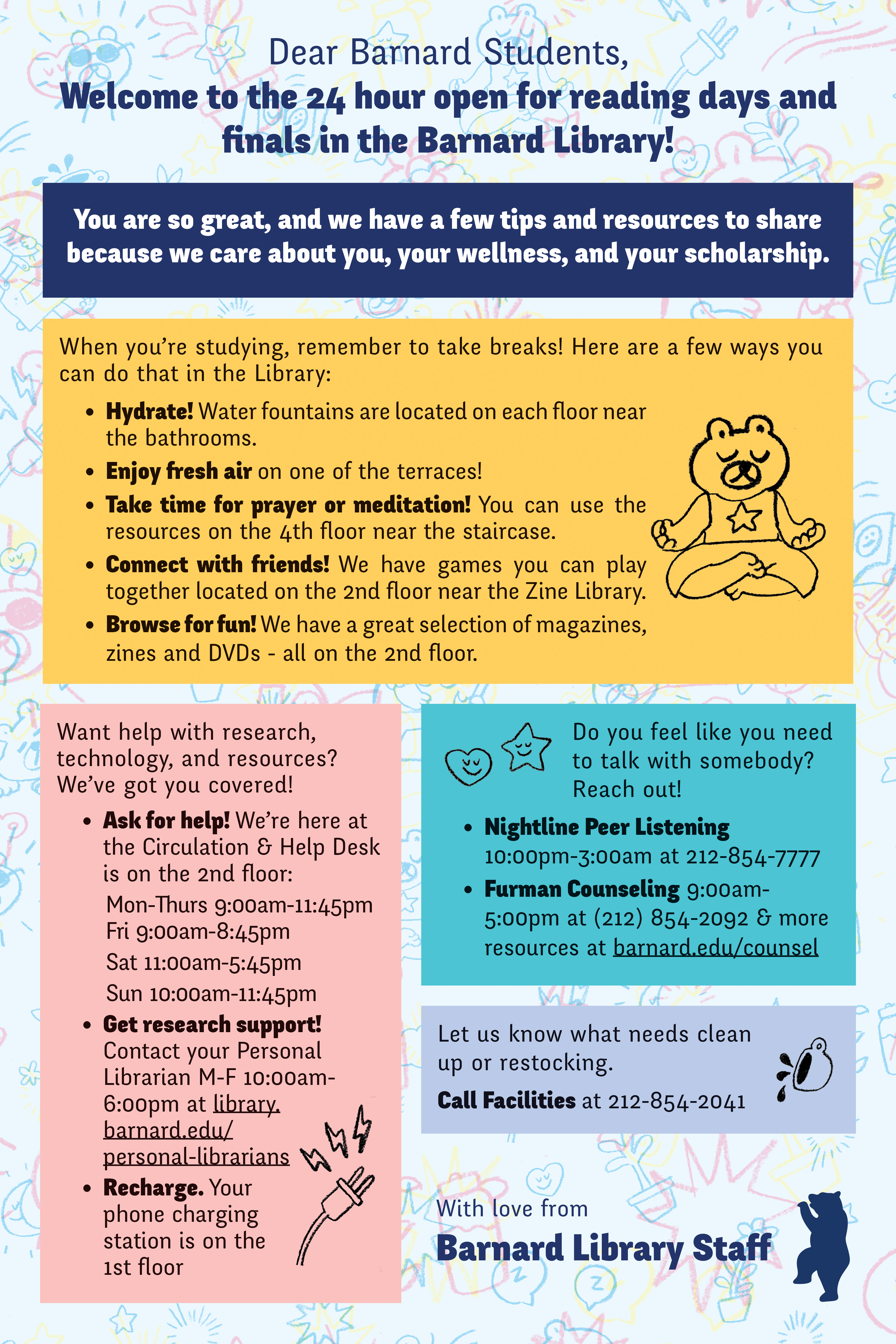 For Reading Days & Final Exams, we will be open 24 hours a day, starting Tuesday May 7th, 8:00 AM until Friday, May 17, 2:00 AM. The Circulation & Help Desk will open during regular hours.
We have a few tips and resources to share because we care about you, your wellness, and your scholarship.
When you're studying, remember to take breaks! Here are a few ways you can do that in the Library:
Hydrate! Water fountains are located on each floor near the bathrooms.
Enjoy fresh air on one of the terraces!
Take time for prayer or meditation! You can use the resources on the 4th floor near the staircase.
Connect with friends! We have games you can play together located on the 2nd floor near the Zine Library.
Browse for fun! We have a great selection of magazines, zines and DVDs - all on the 2nd floor. 

Want help with research, technology, and resources? We've got you covered!
Ask for help! We're here at the Circulation & Help Desk is on the 2nd floor:

Mon-Thurs 9:00am-11:45pm
Fri 9:00am-8:45pm
Sat 11:00am-5:45pm
Sun 10:00am-11:45pm

Get research support! Contact your Personal Librarian M-F 10:00am-6:00pm at library.barnard.edu/personal-librarians
Recharge. Your phone charging station is on the 1st floor
Let us know what needs clean up or restocking. 
Call Facilities at 212-854-2041
Do you feel like you need to talk with somebody? Reach out! 
Nightline Peer Listening 

10:00pm-3:00am at 212-854-7777

Furman Counseling
With love from Barnard Library Staff!