Welcome to this Lunchtime Lecture, co-sponsorored by Barnard College Archives and Special Collections and BCRW.
Artist, writer, and activist Sabra Moore will read from her forthcoming memoir Openings: A Memoir from the Women's Art Movement, New York City, 1970-1990 (October 2016), and share original archival materials now housed in the Barnard College Archives and Special Collections. The collection and memoir feature over 180 different art works and 79 individual artists, and includes letters, photographs, leaflets, artists books, catalogues, artifacts and other documents covering a fascinating range of topics, from the documentation of WAR (Women Artists in Revolution), Women's Services (the first legal abortion clinic in NY), and the Heresies Collective, to the 1984 demonstration against MoMA's lack of inclusivity in its collections. It also includes documents from the NYC/Women's Caucus for Art, the 16-part exhibition Views By Women Artists (1982), and the collaborative show Reconstruction Project (1984), including the original 13-foot Reconstructed Codex with art pages by 20 women artists and a separate archive with co-organizer Josely Carvalho for the Connections Project/Conexus (1987) exhibit including 150 original book pages from 150 women artists from the United States and Brazil.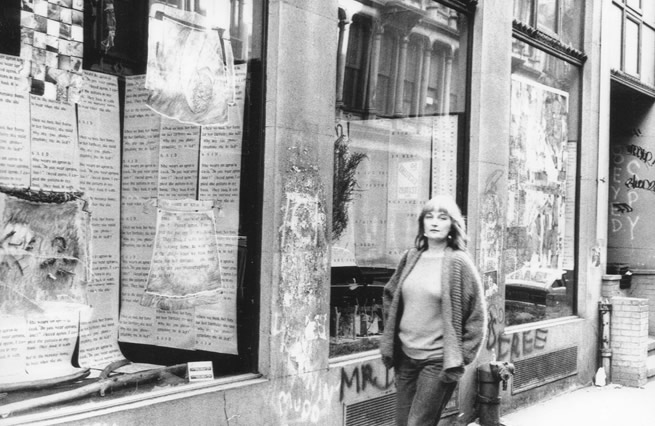 Photo credit: The Heretics
Moore will take us on a tour of the roads where feminist art and activism intersect, shining new light on artwork by such luminaries as Nancy Spero, Faith Ringgold, Cecilia Vicuña, Howardena Pindell, Josely Carvalho, Liliana Porter, Ida Applebroog, Carolee Shneemann, May Stevens, Tomie Arai, and Ana Castillo.
Sabra Moore is an artist, writer, and activist. After moving to New York City in 1966, she became an integral creative force within the feminist art movement. Moore was president of the NYC/Women's Caucus for Art, a key organizer of the 1984 demonstration against MoMA for excluding women and minority artists, a core member of the influential Heresies Collective, an active member of Women Artists in Revolution and Women's Action Coalition, and a leading organizer/creator of several large-scale women's exhibitions in New York City, Brazil, Canada, and New Mexico.