starring Star Amerasu, Ryka Aoki, Annie Danger, Red Durkin, Bryn Kelly, and Shawna Virago
Friday April 12, 2013 at 8PM
Julius Held Lecture Hall, 3rd Floor, Barnard Hall
Co-Sponsors: Barnard College Library, Department of Women's, Gender and Sexuality Studies, and Theatre Department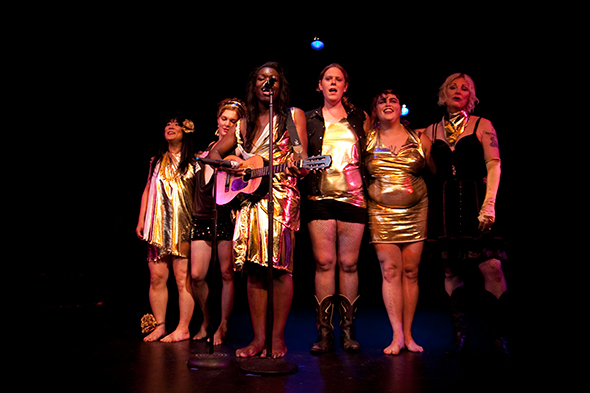 Photograph by Naked Eye Photography/Morgan Weinert, 2013.
Collectively written, produced by, and starring an all trans women cast, The Fully Functional Cabaret: Trans Women's Secrets… REVEALED! is a self-described "love letter to and from trans womanhood." Facilitated by Annie Danger and featuring the performances of Star Amerasu, Ryka Aoki, Annie Danger, Red Durkin, Bryn Kelly, and Shawna Virago, this vaudevillian style cabaret incorporates song, dance, puppetry,
glitter, poetry, live Foley Art, and deep interactivity into a vibrant repertoire.
The Fully Functional Cabaret was produced in 2012 with assistance from the San Francisco Arts Commission, the Queer Cultural Center, and the National Queer Arts Festival. The production premiered in July 2012 at the African American Arts and Culture Complex as the final act of the National Queer Arts Festival 2012.
This event is free and open to the public. Venue is wheelchair accessible.
For more information, visit the BCRW event listing or the The Fully Functional Cabaret website.