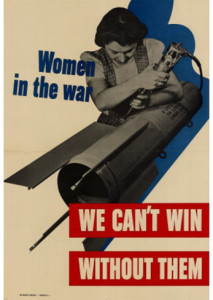 Thursday, June 27th, 2013, the Barnard Library and College Archives will host an exhibition and reception for Lida Orzeck Class of '68's and Steve Berger's generous donation of fifty-three WWII propaganda posters. Twenty of the fifty-three posters will be on display, touching upon themes such as espionage on the homefront, patriotism, war bonds, and the role of women during WWII.
The posters were originally collected by Lida's late father, David Orzeck, M.D, and include work by Norman Rockwell, Valentino Sarra, C.C. Beall, and Carolyn Moorhead Edmunson.
A reception and viewing of the posters will be held from 7pm-9pm on Thursday June 27th, 2013 in the McGagg Gallery, 4th floor of the Diana Center. They will remain on display in the McGagg Gallery until July 8th, after which the posters may be viewed upon request in the Barnard College Archives.
The Barnard College Archives are open Mondays-Fridays from 10am-6pm. Though walk-in researchers are welcome, the archivists encourage appointments. To set up an appoinment, please call the Archives at 212.854.4079 or email archives@barnard.edu