Don't miss the exhibit of Overbury letters and manuscripts mounted outside of the Admissions Office in Milbank Hall!
In 1950, Bertha Van Riper Overbury (Class of 1896) of San Marino, California donated her collection of over nineteen hundred rare book editions and nearly one thousand letters and manuscripts by outstanding American women authors to Barnard College. The collection includes letters by well-known literary writers Louisa May Alcott (Little Women), Frances Hodgson Burnett (The Secret Garden), Emily Dickinson (Because I could not stop for death), Gertrude Stein (The Autobiography of Alice B. Toklas), Harriet Beecher Stowe (Uncle Tom's Cabin), and Edith Wharton (The Age of Innocence).
This selection of reproductions of letters and manuscripts from the Overbury Collection includes documents of historical and personal significance that reveal brief glimpses into the beliefs, lives, and even creative processes of these women writers. The originals can be viewed in the Barnard College Archives, 19 Lehman Hall, open Monday through Friday between 10am and 6pm.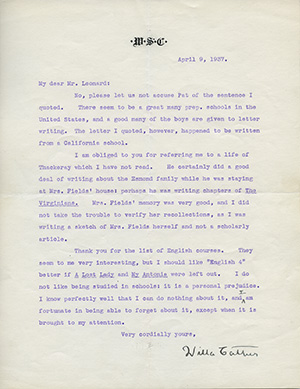 Willa Cather letter, 1937