You may have noticed that a few of our Library Research Guides have transformed... into accordions! 

Drawing by Jamie Vercauteren from Wikimedia Commons
Ahem - well, maybe not into the wonderous instrument known as the accordion - but, into an easy to navigate accordion-style! 
Now, instead of scrolling down a long page of info - you can quickly tab about on the page, using the headings: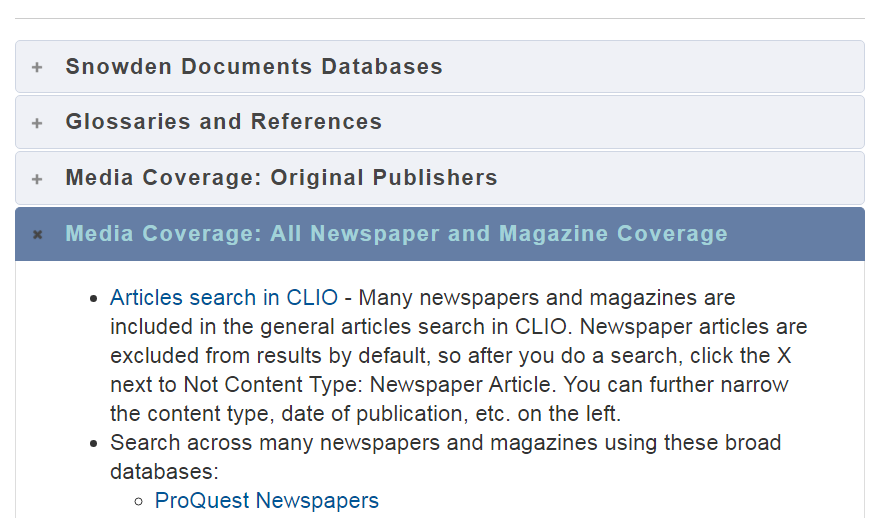 Each heading expands, unfolding to reveal delicious content below! 
The accordion-style was developed and recommended by the Website Working Group, which sought feedback from users through a series of focus groups, design sessions (i.e., design your own library website), and guided interview sessions. Members of the working group learned a ton about how people (Barnard students and other library users) were navigating the site, and are excited to roll out new changes on on ongoing basis. 
Based on their research, the group sought to "improve the navigability and usability of guides as a whole while still maintaining their integrity as sources of knowledge," as Benjamin Rosner of IMATS (Instructional Applications Developer), explained. 
Please experiment with the guides, and share your feedback! 
PS Did you know we have a zine about accordions made by members of the Brooklyn Accordion Club?
PPS It gets even better--some of the Brooklyn Accordion Club members are librarians. Our library communications fellow, Elvis, is an accordionist, too!