Sample platter for intelligent beginners: Monday, December 5, 11:30am-12:15pm.
We'll offer short, hands-on instruction on several Google applications, including Calendar, Collections & sharing, Docs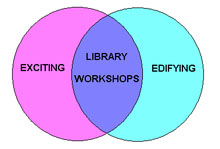 (word processing), Drawing, Form, Mail, Presentation and Spreadsheet.
Stay tuned for in-depth Google Apps workshops in the spring!

Workshops are free, and are held in the Digital Training Lab on the first floor of Barnard Library in Lehman Hall. No registration required.