Circulating Collection
Circulating books and zines from Barnard Library and any other circulating Columbia Library may be checked out for a semester with unlimited renewals (please note- renewals can be blocked if the item in question is recalled or requested). These include materials from Barnard Library's general collections, including the zine collection and the Barnard BIPOC Alum Collection.
Course Reserves
All Course Reserves can be checked out for 2 hours at a time.  Course Reserves cannot be renewed. Red dot (closed copy) course reserves may go out until 10:00 AM the following morning if checked out 2 hours before closing during weekdays, and may go out until 10 AM the following morning during weekends.  Green dot (open copy) course reserves may go out until 10 AM the next day if checked out after 3 PM during the weekdays. (2 open copy max per user). Starting Friday at Noon, Green dot (open copy) course reserves may go out for the weekend and are due the following Monday at 10 AM.
Barnard FLIP Library
Materials in the Barnard FLIP Library are available for anyone with a UNI to check out for 2 hours.

Barnard and Columbia undergraduate students who self-identify as first-generation and/or low-income may fill out this online form to have additional access. After they fill out this form, Desirée uploads their information to a secure server that updates Voyager so that when they check out materials from the Barnard FLIP Library they will have a semester-long checkout period with unlimited renewals.
Media
For the Barnard media collection, film and audio materials circulate to Barnard and Columbia faculty for a seven day loan period. Students, Barnard Alums and Staff can check out media materials for a three day loan period. 
Fine Forgiveness & Transcript/Diploma Blocks
Barnard Library has a policy of fine forgiveness; we forgive all fines incurred on Barnard Materials (we cannot do so for other Columbia Libraries). If you need to have Barnard Library material fines forgiven (including for transcript/diploma blocks), come to or contact the Circulation & Help Desk and speak to or contact the Circulation supervisor on duty. For daytime operation please ask for Quincy Williams, for evening operation please ask for Desirée Rodriguez. 
If you'd like to contact the Circulation and Help Desk,
You may call us at 212-854-3953 or email us at library01@barnard.edu
Desirée Rodriguez - Library Specialist For Access & Circulation (Night hours)
Quincy Williams - Library Specialist For Access & Circulation (Day hours)
BearStor (Barnard items in storage)
BearStor is a new service that we offer at Barnard Library.
With an substantial amount of our collection still in storage, our users now have the option to access these items.  We call the these items BearStor items.  They can be summoned via CLIO.  See how it looks below: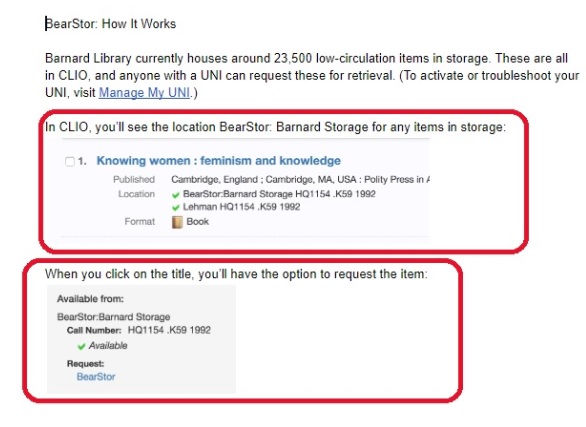 Please note that users who want to request BearStor items must have Barnard/Columbia accounts that allow access to checking out circulating items.  If your account does not have this access you will not be able to successfully request BearStor items on CLIO.
Requesting and Borrowing Items from Other Collections
Barnard Library users can request and borrow items from other collections through three different services: BorrowDirect, InterLibrary Loan (ILL), and  Research Collections and Preservation Consortium (ReCAP). Learn more about these services on our Request Items page.