Current Exhibits & Displays
Undesign the Redline
Image
The Barnard College installation of the traveling exhibition Undesign the Redline, will be on view at the Milstein Center from September 2021 - May 2022. This interactive exhibition combines history, art, and storytelling with community outreach and collaboration as a means to reckon with systemic racism and the legacy of redlining in Barnard and Columbia's neighborhood.
Undesign presents a national and local history of redlining practices through a series of custom panels made up of primary and secondary sources, student and community contributions, and multimedia narratives. The Undesign installation provokes inquiry about the persistence of racism in our built environment and systems, by tracing social and spatial histories prior to the creation of redlined maps by the Home Owner's Loan Corporation (HOLC) in 1938 through to the present. The exhibition provides a lens through which we can examine empirical phenomena such as racialized inequities in public health, vulnerability to climate disaster, exposure to algorithmic bias and differential access to resources. Viewers are asked to consider what it takes to "undesign" the past and build something radically different. Working with a New York-based social design studio Designing the WE, both internal and external stakeholders in Barnard's upper Manhattan neighborhoods such as faculty, students, and community members have co-created parts of the exhibition, bridging academic research with personal and community narratives. For more information, see the Undesign the Redline website.
This program is funded by Barnard Library and Academic Information Services, Barnard Engages, Barnard Center for Research on Women, a grant from Humanities New York with support from the National Endowment for the Humanities, and an Addressing Racism Seed Grant from the Trustees of Columbia University. Co-sponsors include: Barnard Digital Humanities Center, the Center for Engaged Pedagogy, and the Barnard–Columbia Urban Studies Program
Image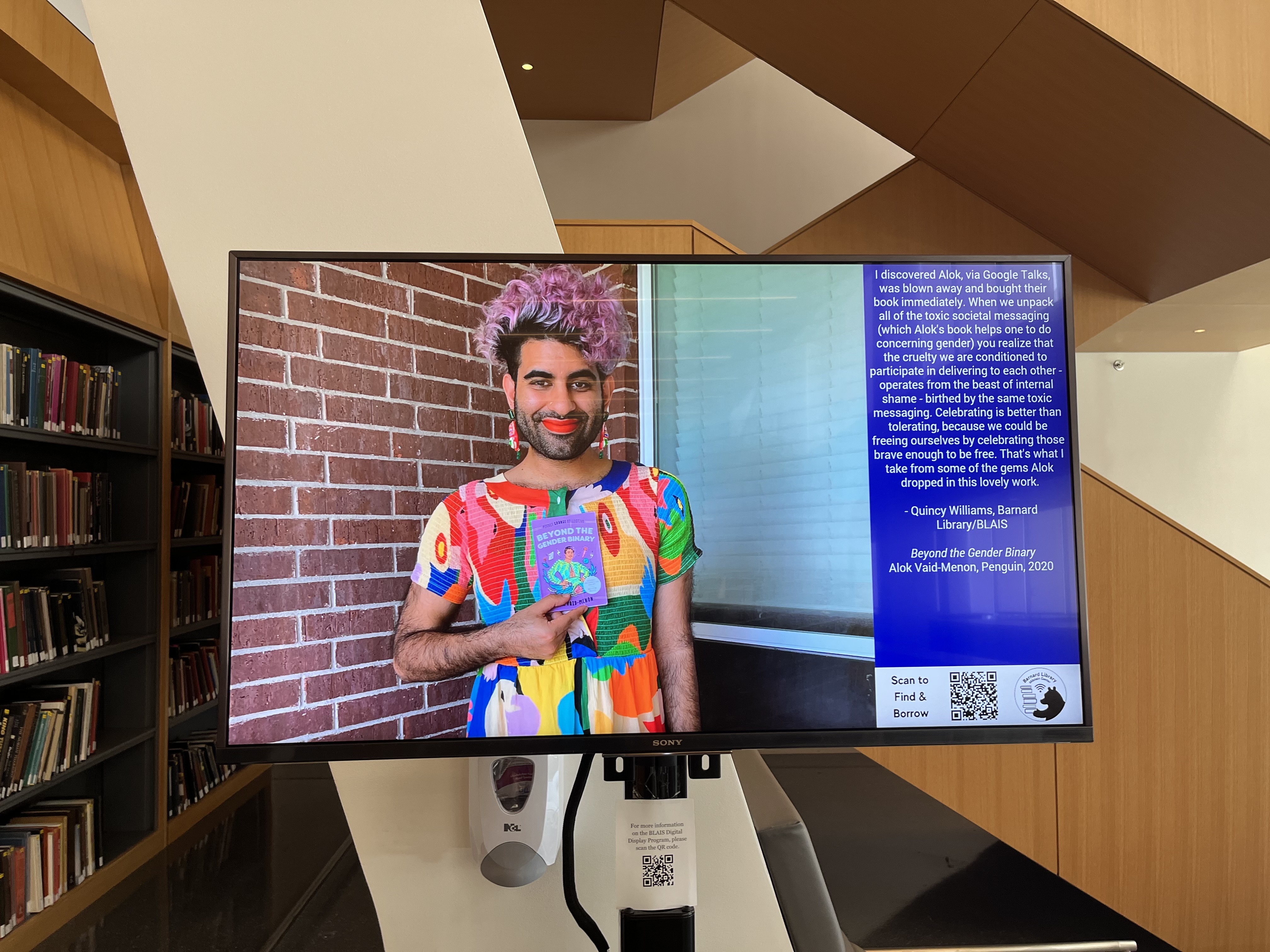 Digital Display
Floor 2, by the Circulation and Help Desk
In February 2022, Barnard Library launched a digital display program. We are currently featuring works by Transgender, Nonbinary, or Gender Non-Conforming Authors. Stop by to see it or peruse the resource list. 
BIPOC Alum Collection Display
Floor 2, to the left of the Circulation and Help Desk
The Barnard Black, Indigenous, and People of Color (BIPOC) Alum Collection affirms the lives, histories, and imaginations of past and current Barnard students who are Black, Indigenous, and People of Color. Displaying these materials helps make their creative work more visible to our entire community; a duplicate copy of each item is also located in the general collection.
WORDY
WORDY: Sabra Moore will be on view at the Hope L. and John L. Furth Archives Reading Room, Barnard Archives and Special Collections. WORDY was scheduled for spring 2020 and postponed due to COVID-19 closures; WORDY will now open on Thursday, March 17, 2022.
The Barnard Archives and Special Collections are pleased to announce WORDY: Sabra Moore, an exhibition of painted and sewn wall works and artist's books from 1982-2018. This is Moore's first exhibition at Barnard; a collection documenting her work as an organizer, activist, and curator in New York City is housed at the Archives. Moore lives in New Mexico and has exhibited extensively in New York City, Canada, Brazil and New Mexico.
Past exhibits

Open Doors
Open Doors features Barnard alumnae who are trailblazers in their respective fields, including Ntozake Shange, Grace Lee Boggs, Norma Merrick Sklarek, and more. The exhibit was curated by Suze Meyers '16.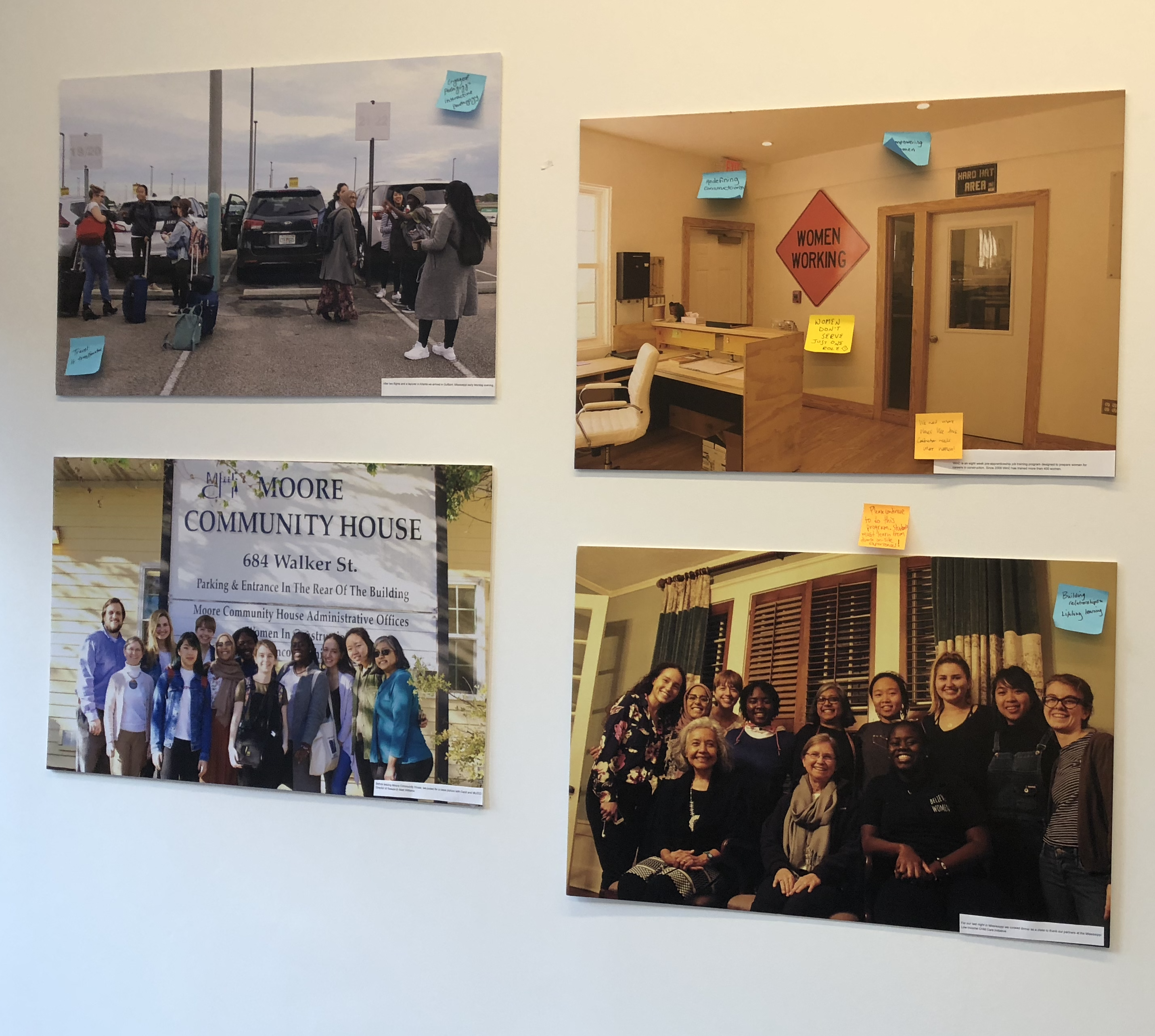 Six Days in Mississippi Exhibit
The Center for Engaged Pedagogy (CEP) exhibits images from the Mississippi Semester course taught by professor of History Premilla Nadasen in Spring 2018, which was built on a collaboration with the Mississippi Low-Income Child Care Initiative. The photos and text on view, by Aubri Juhasz '18, provide a narrative about the experiences of students as they traveled together to do field work during Spring Break.
Image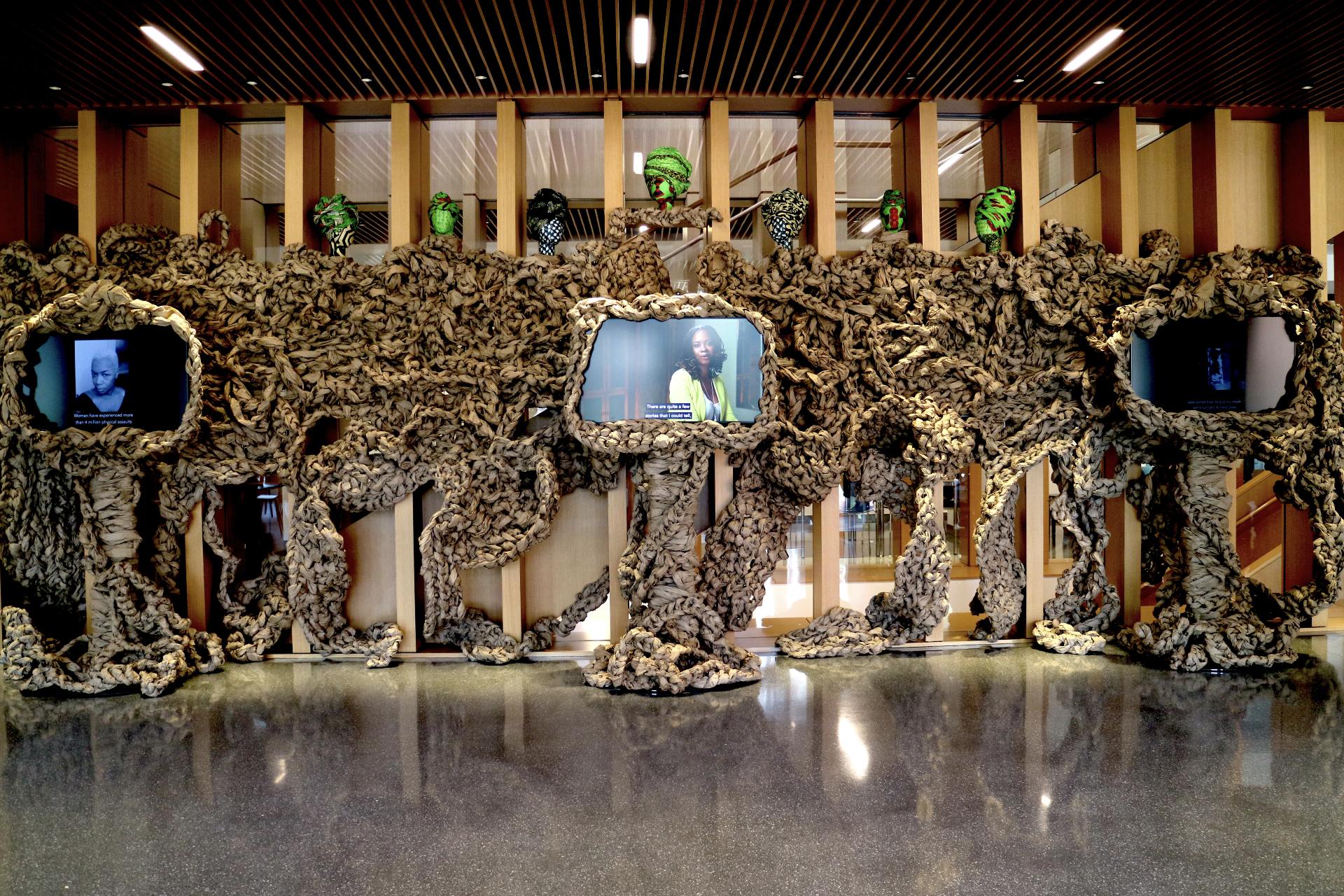 STUFF
STUFF was a multimedia installation celebrating Ntozake Shange's groundbreaking choreopoem, for colored girls who have considered suicide/when the rainbow is enuf. The installation featured artwork by Dianne Smith and a selection of materials from the Ntozake Shange Papers curated by Souleo. STUFF was a part of the Shange Magic Project, a two-year initiative celebrating the life and legacy of Ntozake Shange '70. Learn more at library.barnard.edu/stuff