Library Seating
Seats
Seats on floors 1, 2, 3, and 4 of the Barnard Library at the Milstein Center are available on a first-come first-serve basis (no reservations required).
Guidelines for Seats:
There is a disinfectant wipe dispenser in the lobby if you would like to use these.
Please refer to Accessing Barnard Campus for all current policies.
Study Rooms
Study rooms on floors 1 (rooms 112, 118), 2 (rooms 226, 227), and 3 (rooms 314, 315, 323, 324, 325) of the Barnard Library at the Milstein Center are available to students.

Guidelines for Study Rooms:
During the Fall and Spring semesters, students can reserve the Library Study Rooms on the 2nd and 3rd floor

via the QR codes on the doors or by visiting this link:

tinyurl.com/barnlibrooms

.

Study rooms are for use by Barnard and Columbia students (faculty and staff, please use other spaces)
Limit your use to up to 4 consecutive hours and up to 4 hours each day (total for all rooms)
Need a mask? We can provide you with one. Ask us at the Circulation & Help Desk on the 2nd floor or at the Attendant Desk on the 1st floor.
There is a disinfectant wipe dispenser in the lobby if you would like to use these.
Cancel your reservation if you're not using it (use the link in your confirmation email)
Take your belongings with you when you go, your reservation holds your spot
Come on in if there are no people in the room--you're welcome to use it until someone with a reservation arrives
Study rooms may be used for groups or individuals, for discussion or quiet study, for studying, resting, meeting, eating
 If the study room you have reserved is locked when you arrive, during Library Service Hours ask us at the 2nd floor Circulation & Help Desk; outside of Library Service Hours, call Barnard CARES (please note that this number may forward to Community Safety if the CARES representatives are busy) 212-854-3362
Share with kindness!
Need help?

Email us at library@barnard.edu.
Please refer to the Guide to Current Library Services for information on how to connect with Library - including Archives and Centers - services, collections, and staff teams remotely.
Atmosphere
At the Barnard Library in the Milstein Center we welcome you to study collaboratively or quietly, research and browse with our collections, play with our games and puzzles, ask questions and learn from the Circulation & Help Desk staff members, meet with Personal Librarians and Archivists for research consultations and classes, and connect, research, and create with staff of the interdisciplinary Centers. The Library space on floors LL-5 contain lively interdisciplinary centers, open collaborative study areas, a library instruction classroom, the active Circulation & Help Desk, and areas for quieter study.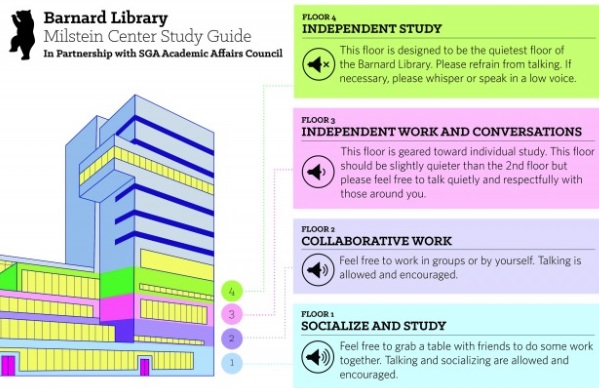 We try to maintain more quiet on the fourth floor of the library.

In the rest of the library, especially where there are group study tables, centers, and classrooms, more discussion and conversation may be taking place.

In all areas of the library, it is best if music is played through headphones and cell phone talking is restricted to emergencies. All other cell phone calls should be answered/made in the lobby of the Milstein Center.
If one library user asks another to adhere to these guidelines (e.g., take a phone call in the lobby), we expect both parties to acknowledge and consider each other's requests and responses in a respectful manner.
Other study areas on campus include the Diana Center, which offers additional spaces for group study, and Altschul Atrium for quiet study.