Library Seating
Seats on floors 1, 2, and 3 of the Barnard Library at the Milstein Center are available on a first-come first-serve basis (no reservations required) for seating and PawPrint station use.
Maps:
Guidelines Include:
Wear a mask at all times
Maintain 6 feet of physical distance
No food
Leave furniture in place
Only library staff may handle books, zines, and films: use clio.columbia.edu for online access or to request materials for pickup
Disinfectant wipes in the lobby for your use
Please refer to Accessing Barnard Campus for all current policies
Need help?
MLC floors 4-11 remain closed. Please refer to the Guide to Current Library Services for information on how to connect with Library - including Archives and Centers - services, collections, and staff teams remotely.
Atmosphere
At the Barnard Library in the Milstein Center we welcome you to study collaboratively or quietly, research and browse with our collections, play with our games and puzzles, ask questions and learn from the Circulation & Help Desk staff members, meet with Personal Librarians and Archivists for research consultations and classes, and connect, research, and create with staff of the interdisciplinary Centers. The Library space on floors LL-5 contain lively interdisciplinary centers, open collaborative study areas, a library instruction classroom, the active Circulation & Help Desk, and areas for quieter study.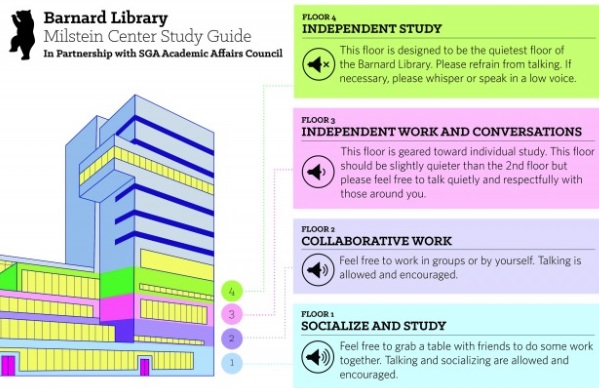 We try to maintain more quiet on the fourth floor of the library.

In the rest of the library, especially where there are group study tables, centers, and classrooms, more discussion and conversation may be taking place.

In all areas of the library, it is best if music is played through headphones and cell phone talking is restricted to emergencies. All other cell phone calls should be answered/made in the lobby of the Milstein Center.
If one library user asks another to adhere to these guidelines (e.g., take a phone call in the lobby), we expect both parties to acknowledge and consider each other's requests and responses in a respectful manner.
Other study areas on campus include the Diana Center, which offers additional spaces for group study, and Altschul Atrium for quiet study.