This document lays out expectations for the library community. It is an evolving document that is updated periodically with input from library staff and library users. BLAIS staff aim to create a library environment in which participants use shared resources in a respectful manner. We ask that patrons hold themselves and each other accountable to these community  guidelines and facilitate a shared experience that fosters learning, studying, and interacting. The library is a working space for students, faculty, and visitors, as well as library staff. The library is a collaborative environment. Within this environment we are committed to upholding the following values:
Inclusivity and anti-oppression: We provide a space where people can expect to work in an atmosphere free of racist, sexist, homophobic, ableist, elitist, entitled, and unjust attitudes, comments, behaviors, and actions.

Privacy: BLAIS staff protect the privacy of reading, scanning, borrowing, consultations, research, and inquiries. User borrowing records are not saved.

Support: We want the library to be a welcoming and affirming space.
Atmosphere
At the Barnard Library in the Milstein Center we welcome you to study collaboratively or quietly, research and browse with our collections, play with our games and puzzles, ask questions and learn from the Circulation & Help Desk staff members, meet with Personal Librarians and Archivists for research consultations and classes, and connect, research, and create with staff of the interdisciplinary Centers. The Library space on floors LL-5 contain lively interdisciplinary centers, open collaborative study areas, a library instruction classroom, the active Circulation & Help Desk, and areas for quieter study.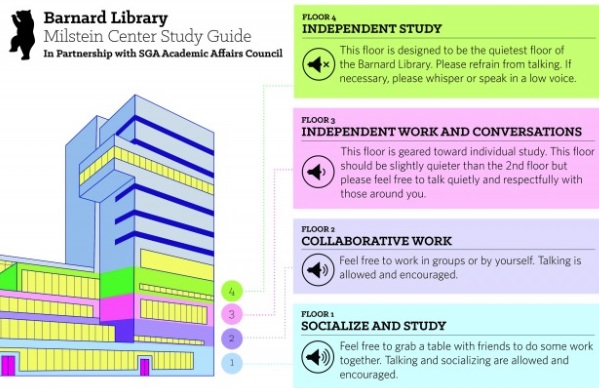 We try to maintain more quiet on the fourth floor of the library.

In the rest of the library, especially where there are group study tables, centers, and classrooms, more discussion and conversation may be taking place.

In all areas of the library, it is best if music is played through headphones and cell phone talking is restricted to emergencies. All other cell phone calls should be answered/made in the lobby of the Milstein Center.
If one library user asks another to adhere to these guidelines (e.g., take a phone call in the lobby), we expect both parties to acknowledge and consider each other's requests and responses in a respectful manner.
Other study areas on campus include the Diana Center, which offers additional spaces for group study, and Altschul Atrium for quiet study.
Care
We ask library users to help us take care of the space.
Please place trash in trash cans and recycling in recycling bins.

Please notify library staff if a bathroom is out of supplies or messy and in need of attention.

You are also welcome to call Facilities for more supplies at 212-854-2041 (after hours this number will forward to Community Safety who will contact Facilities staff)..

Library users are wise to pay attention to power cords on the floor, and when charging their own devices to do so as unobtrusively as possible.
Equipment and Library Materials
Our equipment and resources are meant to be shared equitably by members of our community. Please remember to check out our zines and library books before leaving the library. If you find that any of our equipment (computers, scanners, printers, etc.) is not working, please let staff members at the Circulation & Help Desk know. Please respect library staff by remembering that access to the area behind the circulation and reserves desk is restricted. Materials can only be checked out during times the desk is staffed.
Accountability
Together we create and uphold an environment that celebrates inclusivity, anti-oppression, privacy, and positivity.
If you need support talking about these guidelines, please reach out to staff at the Circulation & Help Desk to share strategies with you.
If you have questions about these guidelines, please email the Barnard Library at library@barnard.edu. A member of the Management Team will respond to you.
If you experience discriminatory or harassing behavior, you may make a report to either Alicia Lawrence, the Interim Title IX Coordinator, or Madeline Camacho, the Associate Director of Community Standards & Investigations / Deputy Title IX Coordinator, through the Equity Office website reporting form. If you include your name in the report, the Office will follow up to share resources and support.