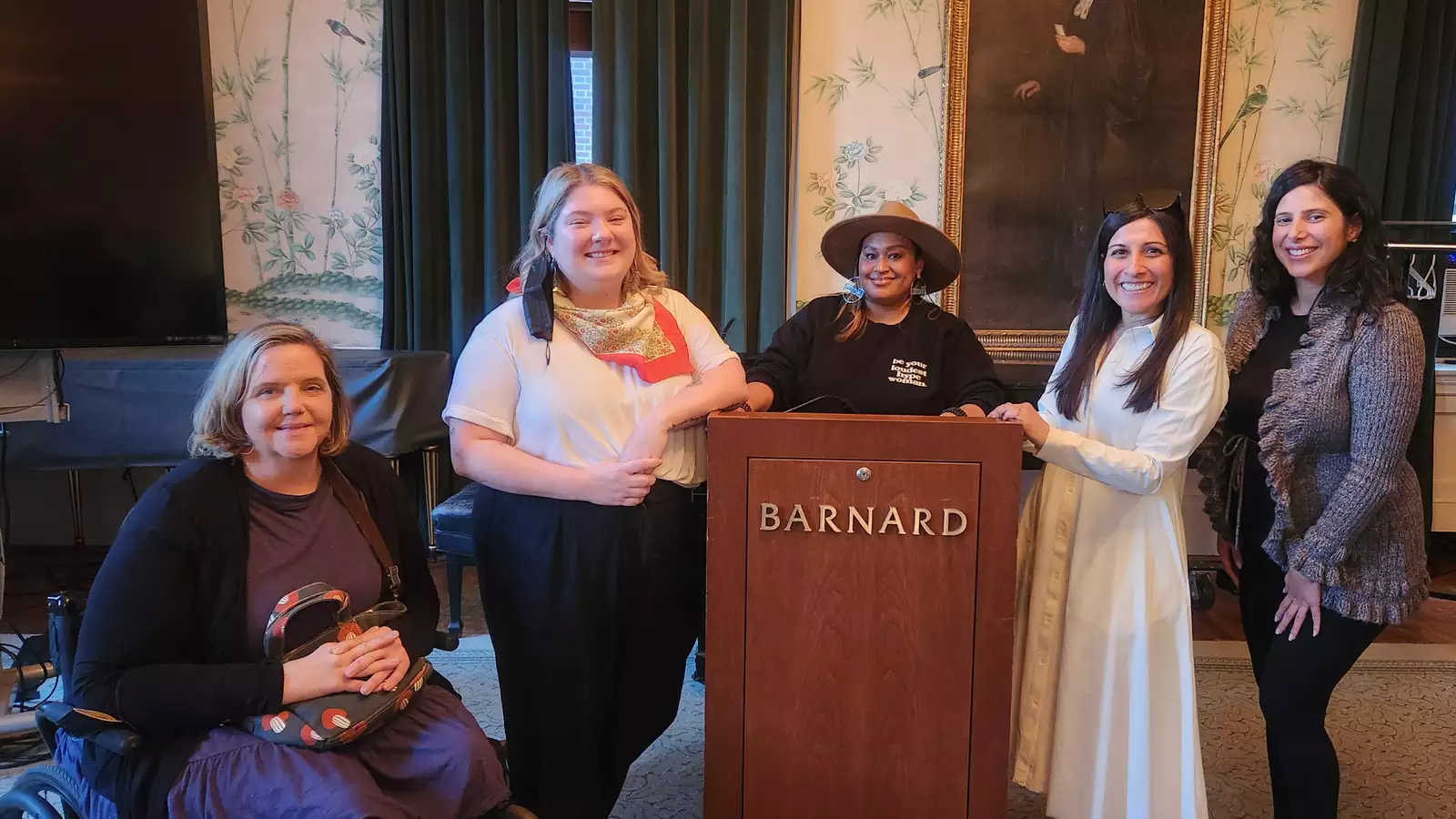 Barnard's commitment to inclusion and accessibility was front and center during a weeklong series of campus events, March 20-24. From dialogue-driven workshops to a field day full of tie-dyeing and games, Accessibility Week left no one out. 
The community-wide events were a collaborative effort between the Diversity, Equity, and Inclusion Council, the Office of DEI, and the Center for Accessibility Resources & Disability Services (CARDS).
"Accessibility Week is an opportunity for all of us to affirm Barnard students, faculty, staff, and visitors, across a range of abilities and identities," said Joanne Delgadillo, Chief of Staff for the Office for Diversity, Equity, and Inclusion and lead organizer of the event. "Although disability justice is a priority throughout the year, highlighting it in this way increases awareness and understanding of physical and mental disabilities and the ways in which we can support accessibility for all on our campus."
Discussing Disability Justice Activism
The keynote event on March 21 featured Jen White-Johnson, a disabled and neurodivergent Afro-Latina art activist and design educator. 
"To me, eradicating ableism is to break unjust stigmas. Accessibility is not just uplifting awareness but uplifting acceptance: to embrace the disabled educators, cultural workers, and advocates as amazing, beautiful people whose living experience should be followed," White-Johnson said to the audience. "Another prime key of accessibility is [to] value all bodies and all minds. Creating genuine belonging gives disabled people the ability to be a part of the wider community and gives us a voice."
(See some of White-Johnson's artworks below, featuring stories that inspired her.)
 Barnard students with disabilities are our community's best resources when it comes to making decisions about accessibility for students.
The week included workshops, for all members of the campus community, through the collaborative efforts of CARDS, Center for Engaged Pedagogy (CEP), Diversity Council, Rosemary Furman Counseling Center, IMATS, and the Francine A. LeFrak Foundation Center for Well-Being. The focus of the workshops included:
understanding disability justice, for staff, students, and faculty;
addressing digital accessibility with faculty; and
educating students on how to communicate effectively about mental health challenges when requesting academic accommodations. 
"For those who want to become better allies, the workshops provide continued opportunities to learn, which is at the heart of all our efforts to become a more inclusive and welcoming campus," said Delgadillo.  
Centering Students
"[Accessibility Week] creates the kind of tangible change that moves the needle campus-wide on disability justice," said Rebecca Sime Nagasawa, Director of CARDS. "CARDS takes the indispensable role at the College to implement the nondiscrimination policy that is both Section 504 of the Rehabilitation Act and the Americans with Disabilities Act. It provides social support to disabled students with peer mentoring, the CARDS student group, the Oral History and Barnard Archives collaboration with BLAIS, and various programming."
Alexa Easter '23, who serves as the CARDS student representative to Barnard's Diversity, Equity, and Inclusion Council, led the CARDS student social platforms last year and this year. Easter said that during her time at Barnard, she has focused on the network of peer support made possible through the CARDS Peer Mentoring Program. 
"Many of us have invisible disabilities, and coming together in an intentional community, [like CARDS], is how we find one another," said Easter, a psychology major.
"Barnard students with disabilities are our community's best resources when it comes to making decisions about accessibility for students."
"CARDS students are also each other's best resources — whether it be entering semesterly accommodations in the AIM portal or navigating self-advocacy, we have the experience and mutual understanding to help each other thrive."
Bringing together staff, students, and faculty in a multitude of ways, Accessibility Week uplifted Barnard's message on its advocacy for accessibility — captured by what Easter called the campus motto: "Nothing for us, without us." 
—ZUYU SHEN '24