The Barnard community came together on Futter Field on June 13, 2022, to celebrate Nancy A. Garvey '71, a dedicated Trustee of the College, for her exceptional commitment and contributions to the College with the naming of the Nancy A. Garvey '71 Walk — a walkway between the Milstein Center for Teaching and Learning and Futter Field, which will be known colloquially as "Garvey Walk." Barnard will also establish the Nancy A. Garvey '71 Science Endowment Fund to support future science facilities expenses at the College. 
"It is truly fitting to name such a common space — a walkway, the walkway frequented by all members of our community — in your honor," said President Sian Leah Beilock. "Nancy, we are so happy to recognize your trailblazing accomplishments." 
"It is just such an incredible honor," said Garvey. "Barnard really truly did change my life. I've always said that. I stated [that] to my friends. I say it to young women who are thinking about coming to Barnard. It totally changed my life — and I should add, for the good." 
In attendance at the dedication ceremony were Barnard faculty, staff, alumnae, trustees of the board, and Garvey's two children, Zach and Katie. Ellen V. Futter '71, Barnard's fifth president and a close friend of Garvey's since their College days, fondly recalled the many afternoons spent together on the campus green — officially named "Futter Field" in 2019, a designation that Garvey initiated and helped to establish, along with the Ellen V. Futter '71 Leadership Fund. 
"Standing here now on this very spot evokes a flood of happy memories of Nancy and me," said Futter. "And now this walk at the very heart of the campus and college — sandwiched between the glorious Milstein Center and this field — my cup runneth over, that we shall be side by side." 
The walkway, which Futter described as "the byway of Barnard," is an apt tribute to Garvey, who has demonstrated leadership in the public and private spheres, as a corporate executive, a philanthropist, and a Trustee of the College, guiding and showing women, by her own example, the path forward. "How appropriate, how right, how utterly perfect to have the Nancy A. Garvey Walkway," said Futter.  
An experienced economist, Garvey earned her doctorate in economics at Columbia University in 1980, where she later taught. Her impressive career in finance included leadership roles at General Motors and AlliedSignal (now Honeywell), where she went on to serve as the Staff Vice President, Investor Relations, and Vice President and Treasurer, and ended her tenure there as Vice President and Controller. At the company, she broke the glass ceiling as one of the top 13 people among 14,000 corporate employees and one of only two women among the senior leadership.  
Garvey has long devoted her time and energy to giving back and advancing women's progress by serving on a number of boards, including the New School, Pace University, and the Bronx Preparatory Charter School. Since joining the Board of Trustees at Barnard in 2008, she has brought her finance expertise to bear as a member of the College's Executive, Audits and Compliance, Compensation, and Budget and Finance committees. Garvey became Chair of the Budget and Finance committee in 2013, where she was instrumental in the financial planning for the Milstein Center and, more recently, the Vagelos Science Center. 
"Whether it was working in a field where you were one of the very few women in the boardroom or around the [Board of Trustees] table, you were never afraid to have your voice heard and to share your experience and your wisdom," said Cheryl Milstein '82, who serves as Chair of the Barnard Board of Trustees. "​​Whether it's equality in education, equality in gender rights, civic rights, in all rights, you major in unafraid." 
In accepting her 2018 Trailblazer Award, Garvey had some insightful words of wisdom to share with current and future students — many of whom will find themselves crisscrossing Garvey Walk in the years to come. "The advice I give to today's Barnard student is 'go for it' in every sense of the word. Try what you want to do. It doesn't matter if you fail. You have lots of time, lots of chances, and if you don't succeed the first time, try, try again." 
 
Honoring Nancy A. Garvey '71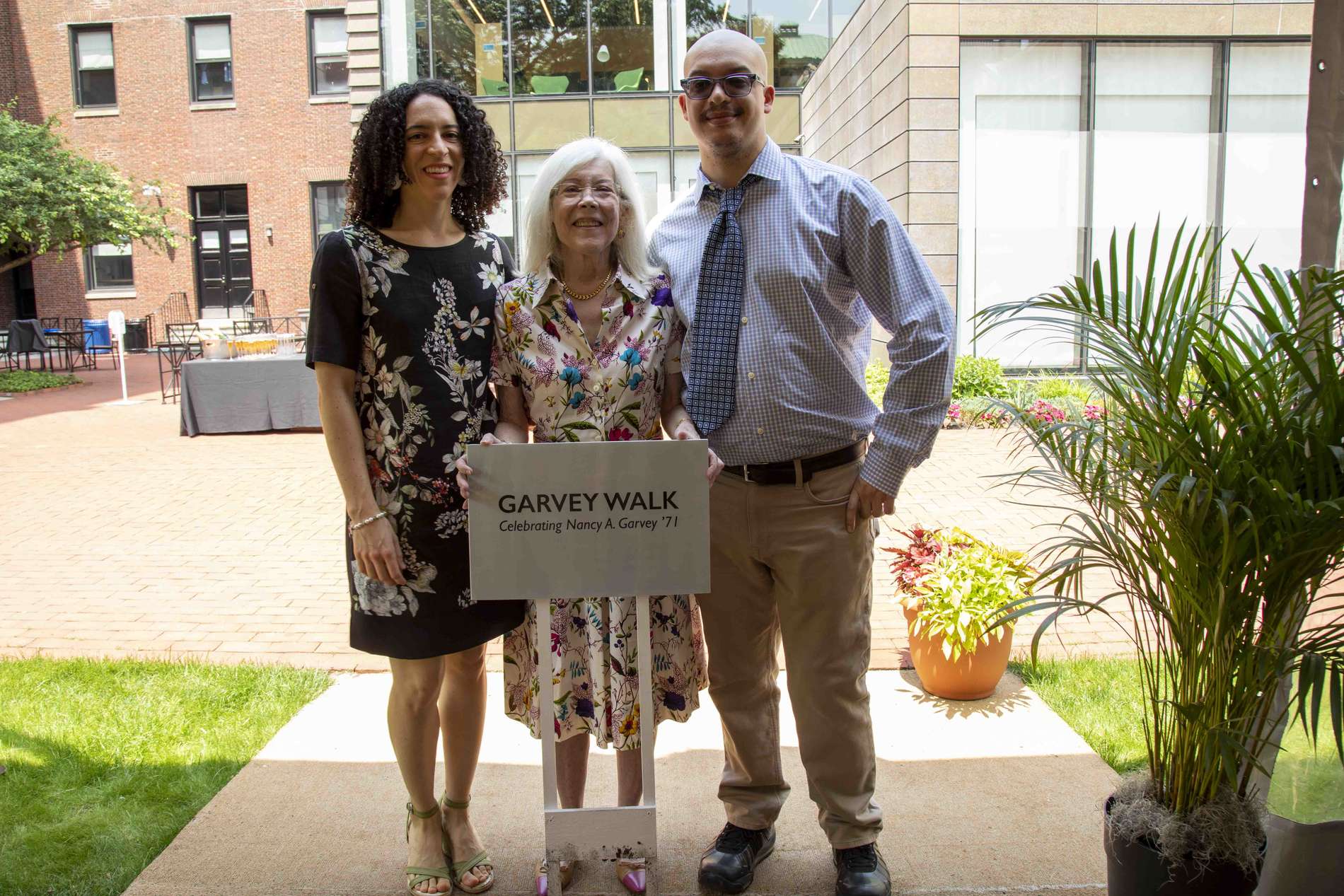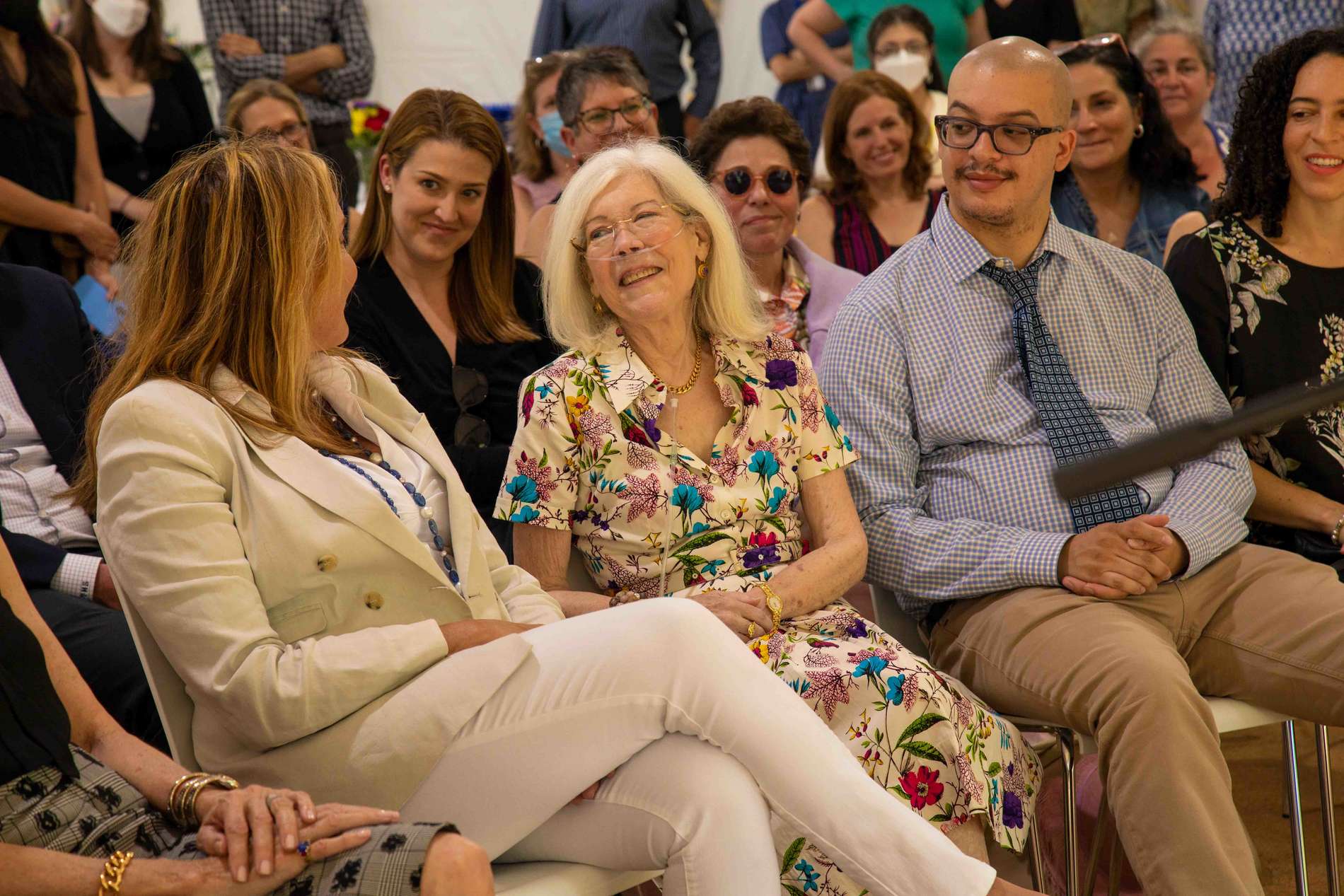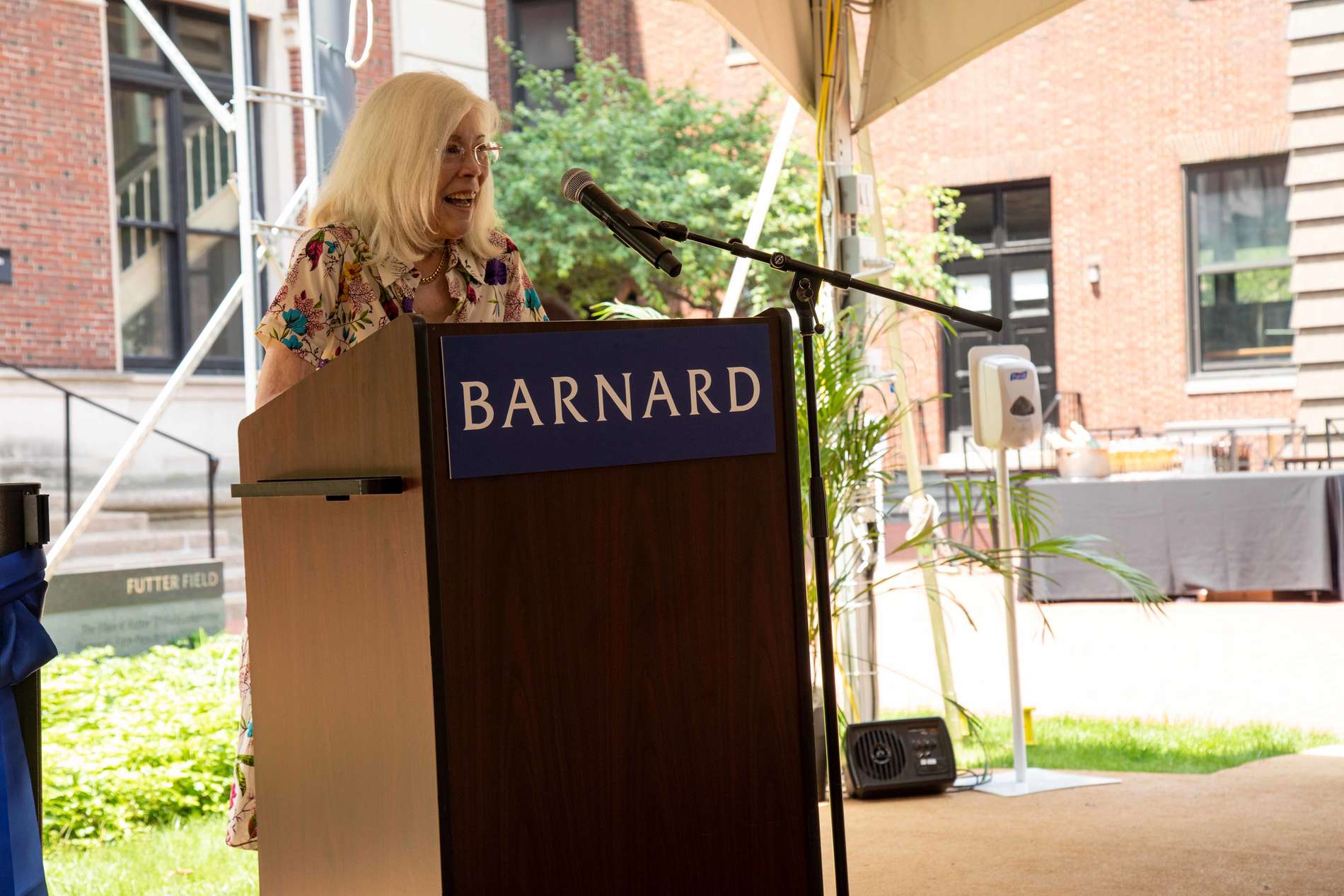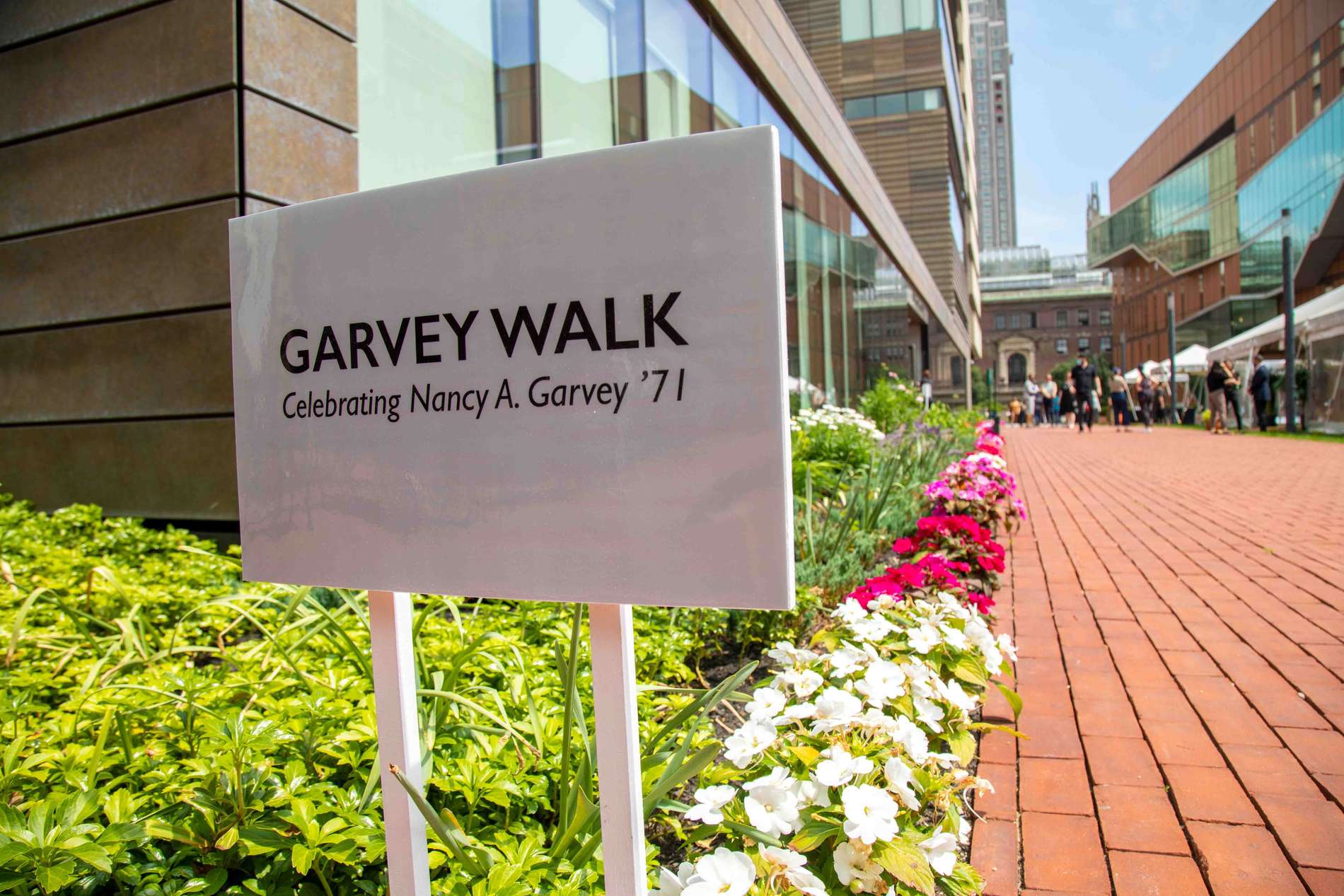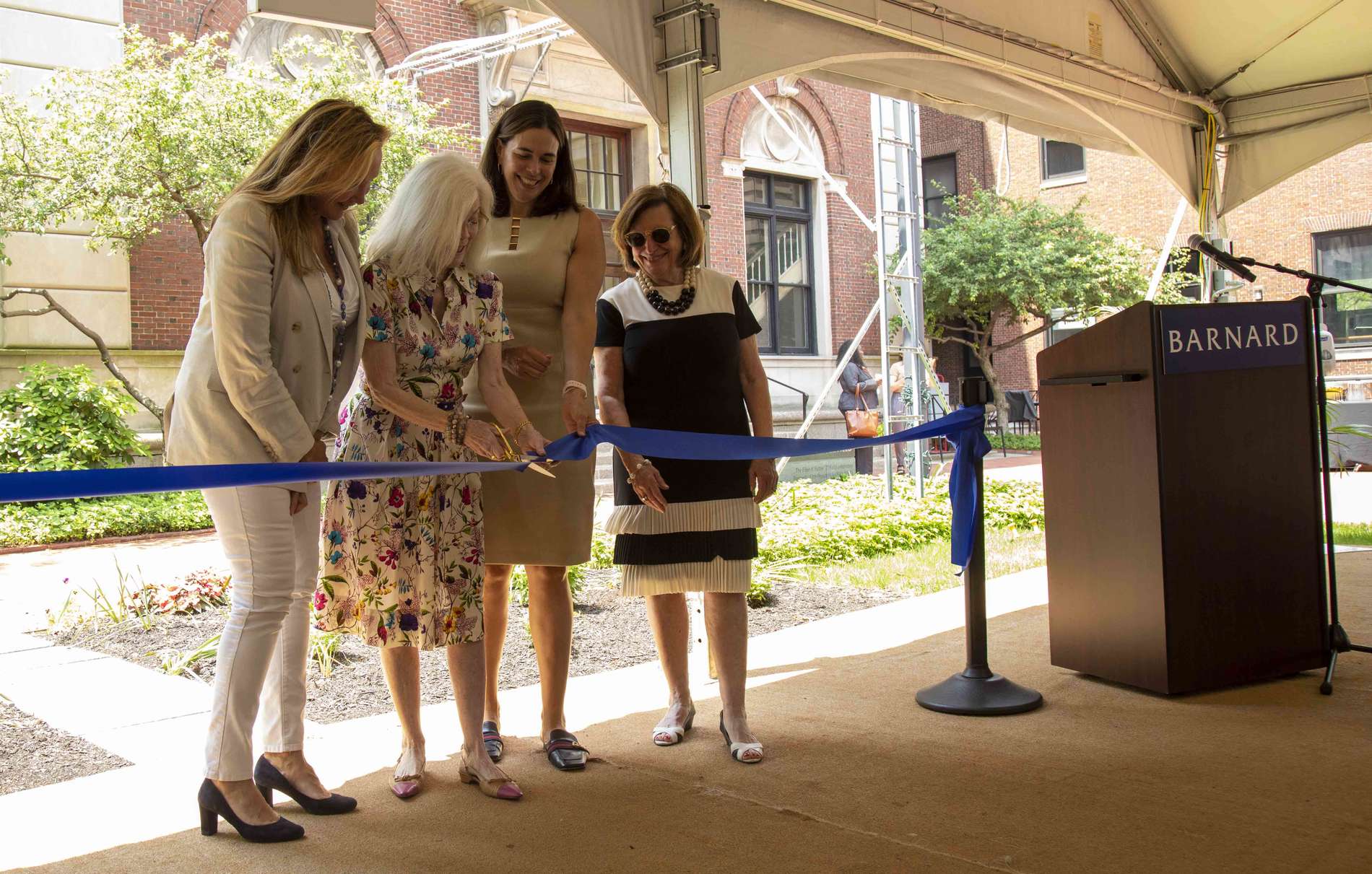 Garvey with her children, Katie and Zach
Garvey cutting the ribbon for the walkway alongside Cheryl Glicker Milstein '82, P '14; President Sian Leah  Beilock; and Ellen V. Futter '71, Barnard's fifth president