This page contains information for students looking to use course reserves. For faculty members who wish to place items on reserve at the Barnard Library, we  have instructions for setting up course reserves.
Barnard Course Reserves
The Barnard and Columbia Libraries provide Course Reserves in order to support instructional requirements for specific courses. Items placed on Course Reserves can be in many formats, including books, journal articles, videorecordings, CDs, and DVDs.
Course Reserves can also be in electronic formats, as well, called e-reserves. Reserves are kept on a short loan period as they're very high in demand, and often all students from a course will need to read a portion of the same book for a class.
All Course Reserves can be checked out for 2 hours at a time.  
Red dot (closed copy) course reserves may go out until 10:00 AM the following morning if checked out 2 hours before closing during weekdays, and may go out until 10 AM the following morning during weekends.  
Green dot (open copy) course reserves may go out until 10 AM the next day if checked out after 3 PM during the weekdays. (2 open copy max per user). Starting Friday at Noon, Green dot (open copy) course reserves may go out for the weekend and are due the following Monday at 10 AM.
How to look up Course Reserves
From the Basic Search screen in CLIO, click on the Course Reserves tab. You'll be prompted to log on with your UNI.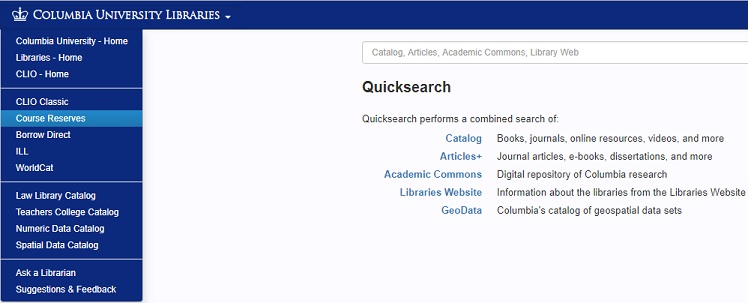 Once you have logged into Course Reserves you will be presented with a list of your courses.  If there is a Reserves list, click on the link to view it.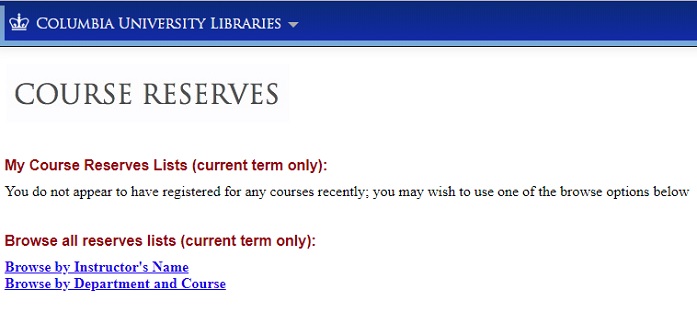 To find Reserves lists for courses you are not taking, use the Browse all reserves lists feature.  Search by Instructor or Department/Course.